What We Do
Our Team
It all starts with a passion for the business and the desire to compete.  Our people have what it takes:
Experience – Average tenure of Salesmen is 9 years.
Training – 100% of Salesmen are AB University trained within the first year.
Knowledge – We understand the brands we sell, and we also know our retail customers, enabling us to place the right item in the right account.
Relationships – Our company's success is only possible through the support of our retail customers.  That is why we say "Making Friends is Our Business."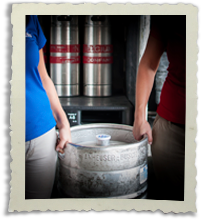 Our Resources
LaGrange Grocery is willing to invest in the resources our team needs to succeed:
State of the art inventory and sales management software (VIP Cloud and iDig Report Writing).
Sophisticated mobile technology for managing customer relationships and writing accurate orders.
Our refrigerated warehouse keeps product fresher.
Warehouse glide racks enable us to carry an increased number of specialized SKUs.
Cart delivery system allows us to handle more SKUs and reduces employee injuries.
In-house print shop allow us to create custom point of sale on demand.
Draught trailers, boxes, and serving carts are available for festivals and special events.
We clean 100% of our own draught lines every two weeks.
Shelf set software enables us to planogram coolers and suggest layouts based on sales.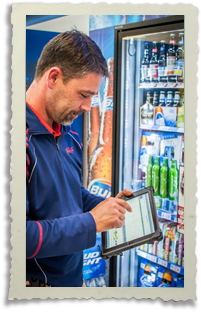 Building Brands
LaGrange Grocery's expertise extends well beyond logistics.  We specialize in building brands through:
Placing the right brand in the right account, including shelf placement and merchandising.
Investing in permanent point of sale materials to build brand awareness.
Product sampling and glassware.
Special events and sponsorships.
Maintaining product integrity and freshness.
Communicating to retailers and consumers the essential story behind each brand.
Role of Independent Distributors
Commercial Value: Today's beer consumer wants access to a variety of different products from across the country. Independent distributors like LaGrange Grocery provide an efficient route to market, enabling breweries large and small to reach customers that would not otherwise have access to these products. The openness and independence of this system leads to healthy inter-brand competition and an abundance of consumer choice, making the American beer industry the most exciting and dynamic beer industry in the world.
Regulatory Value: Alcohol laws regulate a safe, efficient and orderly marketplace for alcoholic beverages in order to promote moderate consumption and responsible trade practices.  Distributors operate within a time-tested regulatory system.  They are licensed by both state and federal governments, and they are accountable for the local implementation of and compliance with laws that preserve public safety and enhance consumer value and choice.  Distributors help create orderly markets with transparency, accountability, and a clear chain of custody for all product within system. This ensures product safety as well as the efficient payment of excise taxes collected on behalf of state and local governments.
Economic Value: Georgia's beer distributors directly employ over 3,000 people, generate $1.3 billion in economic impact, and contribute $285 million to the federal, state, and local tax base. Distributors also make significant local investments in warehousing, marketing, vehicles, and equipment.
For more about independent beer distributors and the Three Tier System: