History
Our roots in the business go back to 1899, when Isaac Hagedorn and partners established West Point Wholesale Grocery Company in West Point, Georgia. The company distributed grocery products to independent retailers in West Georgia and East Alabama.
In 1906, Fuller Callaway Sr. started LaGrange Grocery Company as a wholesaler of grocery products in Troup and surrounding counties in Georgia. The warehouse was located at 32 Morgan Street in LaGrange.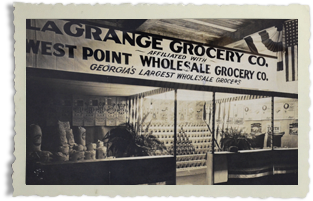 In 1916, John Hagedorn, Max Hagedorn, and Joe W. Birdsong, operated West Point Wholesale Grocery Company. They purchased LaGrange Grocery Company from Mr. Callaway who was devoting his full time to Callaway Mills. Max Hagedorn became President of LaGrange Grocery Company and his Vice-President and Sales Manager was Frank G. Birdsong, a brother of Joe.
In 1917, Anheuser-Busch was seeking Georgia distributors for Budweiser and other products. Since many counties and cities in Georgia had not yet legalized the sale of beer, no wholesaler could survive on beer sales alone. LaGrange Grocery began delivering Budweiser on its trucks along with grocery items.
The United States enacted Prohibition in 1920, and LaGrange Grocery could no longer sell beer. But Anheuser-Busch brewed a non-alcoholic malt beverage called Bevo that the Company sold along with starch and other Anheuser-Busch products.
The United States repealed Prohibition in 1933, but it took until 1935 for Georgia to legalize the sale of alcoholic beverages. With prohibition finally over, LaGrange Grocery could once again distribute Budweiser from its LaGrange warehouse. Max Hagedorn was disabled by a heart attack in 1936, and Joe W. Birdsong became President of the Company. He continued in that capacity until his death in 1952. T.E. Willis became Vice-President of Purchasing in 1950 and remained in that capacity until his retirement in 1995.
Alfred K. Hagedorn, who had been an officer of the Company for many years, was elected President in 1954 and retained this position until 1987. James H. Zachry, who had been General Manager since 1973, succeeded him as President. Alfred K. Hagedorn became Chairman of the Board, and he remained Chairman of the Board until his death, March 2, 1993.
LaGrange Grocery discontinued grocery sales in 1977 and devoted its efforts exclusively to the sale of Anheuser-Busch products in Troup, Harris, Meriwether, Heard, Coweta, and Fayette counties. In 1979, the Company began distributing in Chambers County, Alabama under the trade name Royal Beverage Company. In 1980, we built new refrigerated warehouses in LaGrange and Lanett. At that time, the administrative office was still in the original West Point Wholesale Grocery Company building in West Point. Administrative functions were moved from West Point to LaGrange in 1997, and in 2006, the LaGrange warehouse was once again expanded, adding more loading docks and a truck wash.
In 1995, Randy Neighbors became Sales Manager, and later Vice President of Sales. Al Zachry joined the Company in 1998, becoming the 4th generation to work at LaGrange Grocery and the 5th generation since Isaac Hagedorn started West Point Wholesale Grocery Company 1899. In 2008, LaGrange Grocery partnered with DG Yuengling and Son. This was the first of many new suppliers. In order to adapt to a changing industry, the Company branched out into wine, spirits, and soft drinks.
Randolph County, Alabama went wet in November 2012, and LaGrange Grocery added its 8th county. In 2013, Al Zachry became President. James Zachry now serves as Chairman of the Board.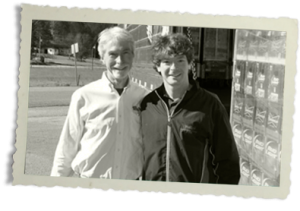 The continued success of LaGrange Grocery Company would not be possible without the hard work and dedication of the employees. We are also grateful for the support of our suppliers and retail customers. The industry continues to change, and LaGrange Grocery continues to evolve, but through over 100 years, one thing remains the same: Making Friends Is Our Business.